LAST ERRATUM EVENT : NØ PØRNØISE#1 - // errances de l'eros

LECTURES/PERFORMANCES - ELECTRONICS AND NOISES - VIDEOS
A night dedicated to weirdo wacko poetry : sound poopooetry and erotish pornopunks freaks.
Un peu de poésie brutale dans un monde de tivirialiti
Les Voûtes - Paris - 17 June 2005


BERNARD HEIDSIECK + CHARLES PENNEQUIN + DAMIEN BOURDAUD + LOV'CORP [THTH+Marjolaine Sirieix] + LUCILLE CALMEL + ANTOINE BOUTE + JOACHIM MONTESSUIS + SUSTAINED SILICON + GIRLSWHOLIKEPORNO + DAVID LARCHER + ARIANE BART + RAOUL BECKMAN + DJ'OUBLIÉMONOM + DJ ERRATUM + DJ COLD GROOVE
CHECK THE TEASER!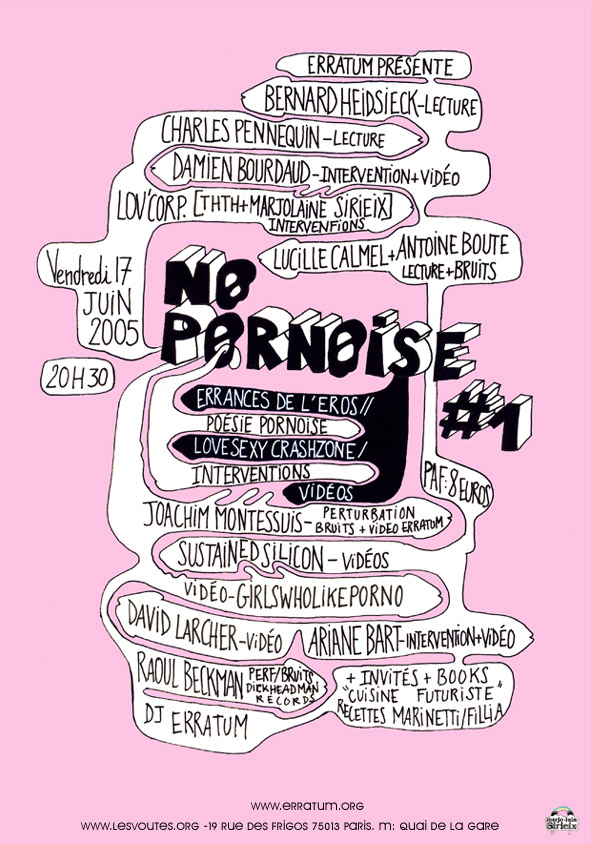 flydesiiign by Marjolaine Sirieix

---

BERNARD HEIDSIECK
Bernard Heidsieck, poète multimédia, est l'un des co-fondateurs de la poésie sonore avec Henri Chopin dans les années 50. Il n'abandonne ni le sens ni la phrase, il invente une nouvelle dramaturgie visuelle, gestuelle, verbale et sonore, avec les pré-enregistrements magnéto et l'improvisation simultanée, au micro, en direct, créant ainsi ce qu'il a nommé la poésie-action (en action et selon une partition préalable). Créateur et interprète de sa propre production, il produit une oeuvre où texte-corps et voix sont un tout indissociable.
Bernard Heidsieck, a multimedia poet, finds his origins in action poetry and is one of the cofounders of sound poetry with Henri Chopin, when, in 1959 they started to use recorders and microphones not simply as reproductive tools but as transformative mixing devices. Creator and interpreter of his own production, he produces his work in which the text -body and the voice are an indissociable whole.


---

CHARLES PENNEQUIN
Débuts Professionnels : 1992.
Charles Pennequin est vivant, absolument vivant (c'est-à-dire dans la merde).
Nombreuses publications en revues (Nioques, Java, Action Poétique, Fusées, Il Particolare, Quaderno, Poezi Proleter...).
Créateur de revues papier telles que Prospectus et Facial Livres, il agit aussi sur le réseau avec le fameux blog de merde
Charles Pennequin is alive, absolutely alive (so in deep shit).


---

LUCILLE CALMEL + ANTOINE BOUTE
combinaison improbable hautement productive/high productive clash
spampoetry activistes
Lucille Calmel performe à tout va, presque tout le temps
Antoine Boute vient de sortir Cavales aux éditions MIX
! lecture/performance !
"de : insultes un travail sur la temporalité à : tant de douceurs te font pâlir"




+ action tectonique vibratile
de Lucille Calmel en collaboration
avec Bertrand Planès (créateur d'objets hybrides)


---

LOV'CORP [THTH+Marjolaine Sirieix]
Duo amoureux de l'overmétaground composé de Thierry Théolier le crevard
number one et de l'artiste Marjolaine Sirieix : "Tentatives de suçon-tatouages" + "Bien profond" (partie de scat-jokari, si le facteur assure...). TH lira "Message pour les siècles à
venir" (tiré de son "baise-sollers" / sortie septembre 2005 aux Caméras
Animales)
Love duet of the overmetaground : Thierry Théolier the famous trouble party parisian and artist Marjolaine Sirieix at their best (they will certainly try to kiss in many ways and so on..).


---

DAMIEN BOURDAUD
origine : Nantes. Avec ses vidéos voyeuristes et ses dispositifs sensibles, Damien Bourdaud aime repousser certaines limites sociales et personnelles.
Venez vivre et participer à son installation-exxperience collective (Int -18)
: Touch'me (Toucher et se faire toucher)
Come and participate to his collective installation/exxperience Touch'me (18++:)


---

JOACHIM MONTESSUIS
digitalvideosoundpuppetrynetworkinteractiveinstallactionblabla


---

SUSTAINED SILICON
Lidwine Prologe & Yann Weissgerber
expérimentateurs du thanateros amoureux...
self control requis pour le visionnage des vidéos


---

GIRLSWHOLIKEPORNO
Barcelone freaks
"...Y tal vez un día no tenga sentido decir girlswholikeporno. Porque tal vez ya no existan girls ni boys. Y el porno como manifestación del sexo sea tan diferente como somos las personas..."


grrrgghhhh.


---

ARIANE BART
Née en 1975 à Leuven (Belgique), vit à Bruxelles ou à Leuven, selon les circonstances ; cavalière, elle se consacre également au bizness de la poésie expérimentale. Pornolettriste/activiste elle tente d'intervenir et de perturber avec joie et désespoir quelques mailing lists de "poésie contemporaine" (oops) du genre de cu_cu_clan ou compost23
Pornolettrist addict and professionnal perturbator on xperimental poetry mailing lists. Like to jump on horses...(how..¿)


---

DAVID LARCHER
pionnier dans l'expanded cinéma expérimental anglais, puis dans la vidéo digitale.
l'occasion de re/voir le classique Videøvoid ¿
ou les prémices de SeX/text...
blabla pionneer..xpanked cinéma xperimental... then digital videøvoids..DVD('s¿) to be released on Erratum.. beware of the Köln clown clone...


---

RAOUL BECKMAN
Mr Beckman est un des fers de lance du label fictif/effectif dickheadmanrecords
Ses interventions soniques rares et décalées restent un mystère. Qui est-ce?
Mysterious person, rare interventions and sets full of sexy screams and noises.


---

+++
DJ'OUBLIÉMONOM
Le principe d'équivalence de Filliou (Bien fait/Mal fait/Pas fait) appliqué aux platines!
The Principle of Equivalence of Filliou (Well done/Badly done/Not done) turned into DJ'ing!


---

DJ ERRATUM
sound poopooetry/snd puppetry/poésie pornoise/bruits en tous genres/animations de vos soirées moites/noiz moist/trances wolveries/technoise/...


---

DJ COLD GROOVE
mix/ludique/festif/conceptuel/Testez Votre ChaÎne Hi Fi/Disques souples/disques de boucles/poésie sonore/Bruit de disques/Stupid remix/Musiques pour enfants/Slam de musique amplifiée



---
STILL AVAILABLE :




CD ERRATUM#1
CD ERRATUM#2
CD ERRATUM#3

NEW
CD Henri Chopin
hors série#1



STORE





















erratum¿:

Erratum : an errant and irregular publication. 2004 : 3 CDs, 53 artists. Poetry of sound / sound of poetry. Erratum brings together personalities both atypical and unclassifiable : outriders, stalkers, survivors of the sonic crash zone, those transgressing the strictures and clichés of unimaginative sound habits. Visual and sonic artists, bards, iconoclastic noise makers come together to create a subtle, hybrid, ever-changing, disseminated collective sonic psyche. From the time of Marcel Duchamp's Musical Erratum and Luigi Russolo's Art of Noises in 1913 to the latterday recuperation of software bugs, hardware crashes, along with the eclectic array of contemporary poetical noise praxis, there is a rich, complex and poorly understood history. Erratum's aim is not so much to associate poetry and music as to seek out their potential to merge : the crossovers, the openings, the interzones, meetings and fault lines, the ineffable yet tangible open fusion, that blends the different vibrations of voice, noise and electronics. Erratum tends to create bonds between otherwise diametrically opposed tendencies, in a spirit of broad-mindedness, alliance, impurity and cross-fertilization, while keeping a critical distance from sectarian and incestuous factions. Erratum weaves a lively and diagonal concretion, an alternative to restrictive and mechanical technological visions and it stands out as a realm of a possible Utopia of the indivisible that leads towards active questioning.

Edited and compiled by Joachim Montessuis.

order:


metamkine

contact:

erratum at erratum dot org


[ERRATUM] newsletter :